A little lube will make a difference in your love life. A lubricant eases vaginal dryness and friction. Therefore, you can enjoy smooth and pleasurable vaginal penetration. Also, lubes are used for anal, masturbation, oral, and even when playing with sex toys. KY Jelly and KY Liquid are some of the top-most lubes on the market right now. KY Liquid Vs Jelly: how do they compare? Read on to know the details of these two lubricants.
Both are water-based and latex condom compatible
KY Jelly and Liquid are water-based lubes. As a result, they are easy to wash off. In addition, they won't cause any irritation during and after use. Also, KY Liquid Personal Lubricant and KY Jelly Personal Lubricant can be used with latex condoms and sex toys without any problem. Therefore, you can use any of the two to enjoy safe sex and adult play, respectively.
KY Liquid and Jelly are good to ease vaginal dryness
Vaginal dryness is something that affects many women. KY Liquid and Jelly are perfect lubricants to ease vaginal dryness, even that associated with menopause. You just need to use the lubricants in the right way, and you will not experience dryness or friction when having fun.
Free of hormones, preservatives and fragrances
Safety comes first when it comes to sex lubricants. You don't want a lubricant that can harm your skin and most importantly, your private parts.  For that reason, KY Jelly and KY Liquid are carefully made to meet high standards. As a result, the products are free of alcohol, fragrances, hormones, among other harmful ingredients. As a result, you can use them with confidence.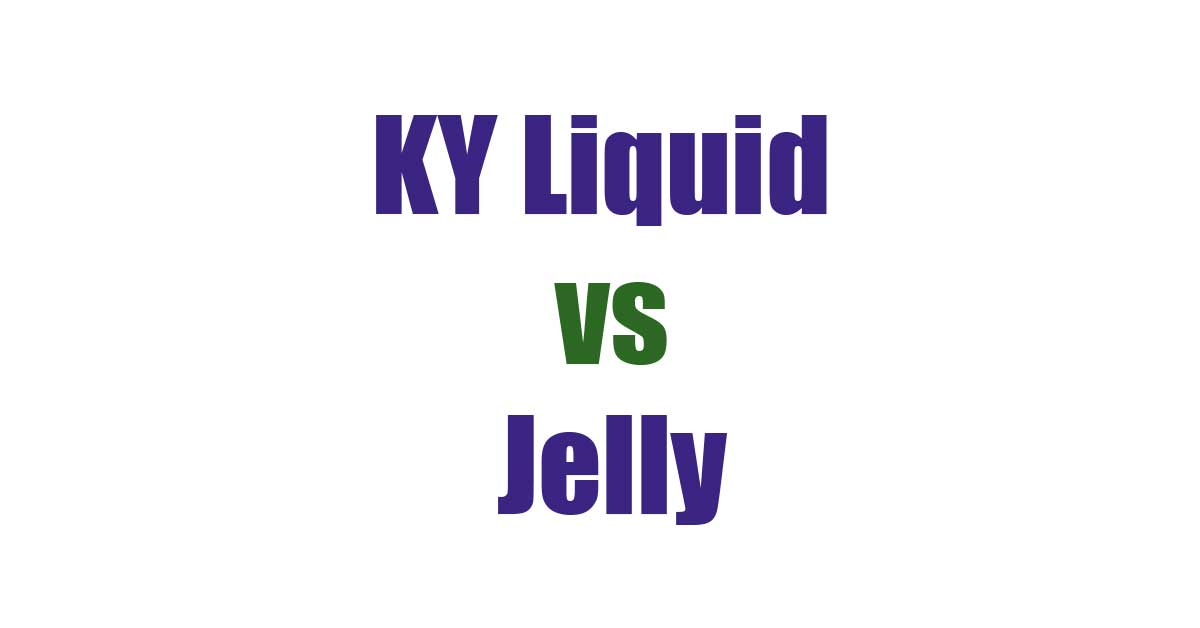 KY Liquid vs Jelly; what's the difference?
KY Liquid is made of water, glycerin, sodium hydroxide, propylene glycol, hydroxyethylcellulose, sorbitol and methylparaben. In addition, the formula has benzoic acid. On the other hand, KY Jelly is made from water, glycerol, hydroxyethylcellulose, chlorohexidine gluconate, methylparaben, sodium hydroxide and gluconolactone. There is a slight difference in ingredients.
The main difference arises when it comes to liquid consistency of these two amazing KY lubes. KY Liquid Personal Lubricant is a thin formula. The formula is light, and specially made to enhance sexual pleasure for both parties. On the other hand, KY Jelly Personal Lubricant is thick and non-greasy. It stays where you put it or where you want it to be. It simply and quickly prepares you for pleasurable intimacy.
What about pricing?
The two lubricants for sex are very affordable. However, KY Liquid Personal Lubricant is a bit expensive than the KY Jelly Lube. But the difference in pricing is not that big. Therefore, pick KY formula that is ideal for your sexual intimacy needs; don't let price confuse or limit you from getting what you deserve.
Final Words
KY Liquid vs Jelly; which is better? The two lubricants are water-soluble, long lasting and won't damage latex condoms. If you want a lubricant that is thicker, you should go for KY Jelly Premium Personal Lubricant. On the other hand, if you want a light formula to keep you and your partner going, KY Liquid Personal Lubricant is a nice pick for you.